---


---
Show time
8:00PM

Tickets - $35 (unless otherwise indicated)
Unless otherwise indicated, in the Greenbank area tickets are available at:
---
Blue Heron Books, 62 Brock St West,in Uxbridge, 905-852-4282

---
P O E Design, 146 Queen St, in Port Perry, 905-985-0060
---
Tickets are also available by calling 905-985-8351.
---
The Greenbank Folk Music Society
---
---
News
For the first time since the pandemic put so much on hold, The Greenbank Folk Music Society is very pleased to be planning for a full line up of artists in our 2022/23 concert season!
Our venue remains the same, and we look forward with hope to a season where most restrictions are a thing of the past - including ticket availability limits.
Here are the concert dates and list of artists booked to date. The 2022-2023 concert page will be posted later this summer.
October 15,2022 - Russell DeCarle, with Steve Briggs & Russ Boswell
November 12, 2022 - Pat Temple and the Hi Lo Players, with Logan Murray opening
December 3, 2022 - David Francey, with Quote the Raven opening (Duo)
January 21,2023 - Lynn Miles with Keith Glass. Opening: Benj Rowland (of the Mayhemingways)
February 25 - James Keelaghan, with Graham Nicholas opening
March 25 - Annabelle Chvostek - (formally of the Wailin' Jennys) with a quartet. Opening: Tania Joy
Apr 22 - Over the Moon - a folk roots duo , with Rory Taillon opening

May 27- Suzie Vinnick - much-acclaimed roots singer/songwriter and multi-instrumentalist
About us
The Greenbank Folk Music Society is a volunteer, non-profit group that has been dedicated to bringing the best Canadian roots and traditional folk and blues music to small town Ontario since 1993.

The season consists of monthly concerts October to May, held in the Greenbank Centennial Hall. The Hall is located 30 minutes north of Whitby on Highway 12. (See map) The location is small, only 95 tickets available per concert and usually sold out, so calling ahead for tickets is important. Over the years the Society has gained a solid reputation and the support of both the general public and performing musicians.

Past performances have included Russell de Carle, Quique Escamila, Ron Sexsmith, Sultans of String, Carlos Del Junco, Suzie Vinnick, Blackie & the Rodeo Kings, Old Man Luedecke, David, Francey, Ken Hamm, Ron Hynes, James Keelaghan, Rick Fines, Club Django, Chris Whiteley & Diana Braithwaite, Samantha Martin & Delta Sugar, Oh Susanna, Stephen Fearing, Bob Snider, Wendel & Wheat, The Silver Hearts, Kevin Breit, Jenny Whitely, Lynn Miles & Keith Glass, Scott Meritt, Jeremy Fisher, Emory Lester, Rob Lutes, The Claytones and a whole lot more!
---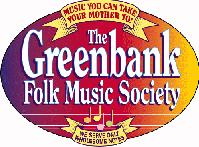 For information and bookings:
Cathy Galberg (905) 985-8351
email: cathygalberg@gmail.com
(Please note that tickets cannot be ordered by email.)

The Greenbank Folk Music Society
c/o Cathy Galberg
1179 Cragg Road
Greenbank, Ontario
L0C 1B0

Past seasons: